Unravelling Exploration: Next stop Rwanda
by Francois Malherbe (Blogger, Dreamer & Vocational Explorer & http://www.unravelling.co.za)
Written by my good friend and fellow explorer, Jaco Botha. (The video above is just to give you an idea how beautiful Rwanda is! Well done to the Mammoth team)
Unravelling: Rwanda
In around 1880, Roman Catholic missionaries arrived in the Great Lakes region of what is today called Rwanda. Almost 50 years later, when German forces occupied the area during World War I, the conflict and efforts for Catholic conversion became more pronounced. As the Tutsi resisted conversion, the missionaries found success only among the Hutu. In an effort to reward conversion, the colonial government confiscated traditionally Tutsi land and reassigned it to Hutu tribes, igniting a conflict that has lasted into the 21st century.
And in 1994… 20% of Rwanda had been murdered.
±1 000 000 people.
Within 100 days.
After these events Rwanda changed. Much like South Africa, there was (and still is) a great thirst for hope, forgiveness and reconciliation. Unlike South Africa, the perpetrators of the genocide lived with the victims in the same villages, during, in and after the massacre. This sparked a great need to build a bridge that will allow people to journey away from their broken past.
So in 2001 Paul Kagame (president of Rwanda) implemented "Gacaca". This is a cultural tradition that strives towards forgiveness and reconciliation. These courts helped with the enormous backlog 70 000 perpetrators that were awaiting trial. It works with the concept of admitting one's guilt and then giving the victims the chance to forgive. If a perpetrator is forgiven, he/she is irrevocably forgiven. Without any consequence.
Forgiveness has become the engine of hope. Reconciliation has transcended the realm of idea, it has become a lifestyle.
Gasperd, 35, (pictured right) locks arms with Innocent (named after he was forgiven), 38, (left), the man who killed his older brother during the 1994 Rwandan genocide. Gasperd and Innocent later reconciled while attending a workshop hosted by the 'As We Forgive Rwanda Initiative' and today work together in an agricultural association. They are pictured in the exact spot where the murder took place.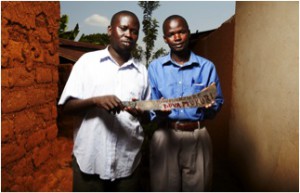 Chantale Umbereyimfura (left), 39, never thought she would forgive John Nzabonimpa, 63, the close family friend who brutally beat her father to death. 14 years after the murder, Chantale and John agreed to attend a healing and reconciliation workshop together. A year later, Chantale publicly forgave John in front of their entire community, saying that her heart had been "set free." John and Chantale's story is featured in the student Academy Award-winning documentary 'As We Forgive.'
Jean Baptiste Ngendananimana, 35, (right) did not discover until the middle of Jeremy Hakizimana's murder trial that he, in fact, had killed one of his brothers. Jean Baptiste had lost both of his parents and seven siblings in the conflict. Today, Jean Baptiste and Jeremy live next door to each other.
These stories are, in essence, not about the people involved but about life. Life in its most raw beauty. It is about life as a relational verb that works toward a reality of hope.
Heaven breaking through to Earth. Love being unconditional. Grace as a lifestyle. Africa as an example for Palestine, Israel and yes… the mighty UN.
In the winter of 2014 An Unravelling Exploration will be making our way to Rwanda. A handful of African friends exploring the significance of the "insignificant". We will spend our time sitting around fires with some of these people, in the hope that we can understand this revolutionary way of connecting with people. Understanding the transformation that uproots a hard hart and replaces this hardship with a life giving hart of flesh and blood. The blood that we all share as Africans. During this exploration we hope to undermine our own preconceived Western ideas of community, forgiveness, love and respect. We hope to better understand what it means to be African. Most of all we hope to bring back, a new way of doing life, a better way of interacting with our people and sharing the next step in becoming a South Africa that is closer to heaven.